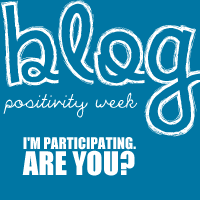 Did you see the
Blog Positivity Week
over at after nine to five? Starting today until March 25th, Ashley has planned a week filled with all things positive regarding our sweet world of blogging. Today's post is about why she's here and why she's doing this. Head on over here to read her post.
So, why am I here and why am I doing this?
I started blogging in September 2010. I hadn't really read a blog before that, I had no idea what I was doing or where to begin, but I just did. At the time my family and I lived in Chicago and I thought it would be fun to write about our adventure and in no time "Chrissy in America" the blog was born and the rest is history.
Since then I have met so many amazing people, I have made some wonderful friends! Friends I would probably not have made if it weren't for my blog! I have learned so much and I still am, it's amazing how this thing influenced my life, the life of my family. Ha, it's like they tell me to take pictures of things to put them on my blog!
Some people totally understand what an important part of my life this has become, but to be honest, they are all bloggers. Others just don't get it. And that's totally fine - there is no need for everyone to understand this or to support it. Everyone has their own passion, their own important parts of their lives and some I don't get, so, we're all in this together - well, sorta!
I think it's a wonderful idea to fill a whole week with all the positive things about blogging, because sometimes we tend to forget why we're doing this and what made us begin in the first place! No matter why you are here, be yourself and stay true to your believes and everything will be just fine!
Join us during this fun week and share your experiences, your passion, your goals! Link up your post over here, so we can all come over and say hi!